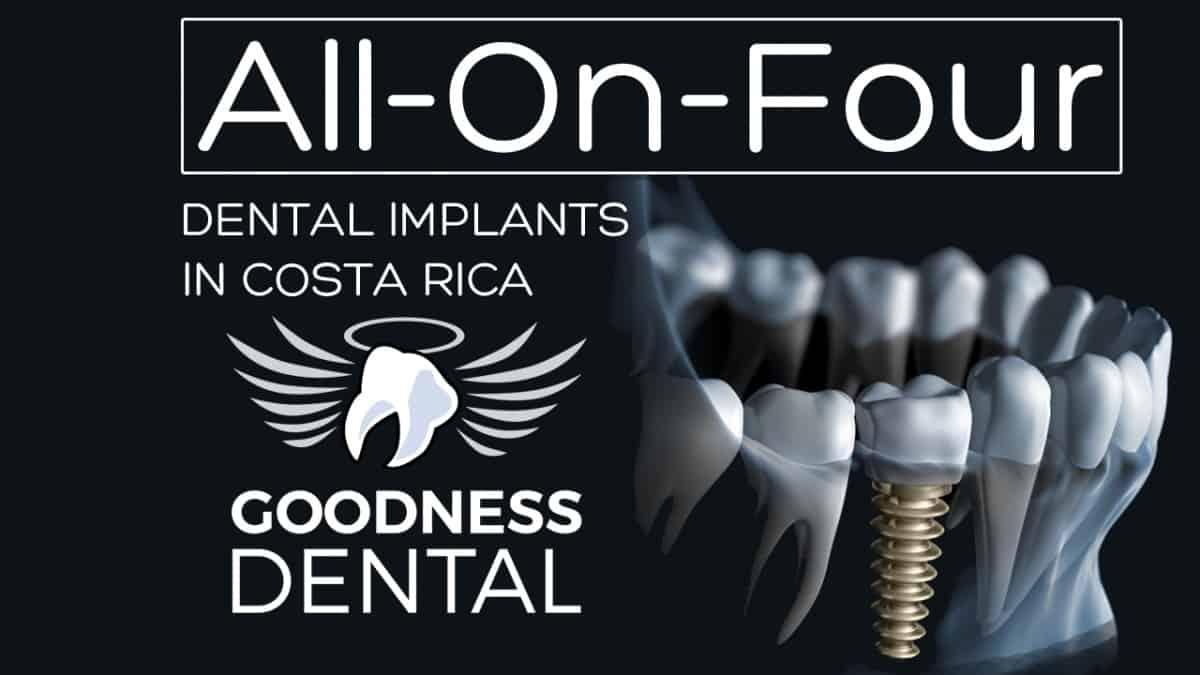 We interviewed Patrick Goodness, CEO of Goodness Dental, ranked the number one dental clinic in Costa Rica by Global Clinic Rating and Costa Rica Dental Guide. In fact, Global Clinic Rating ranks Goodness Dental as the number seven dental clinic in the world, out of 126,000 total dental clinics. No other dental clinic from Canada all the way to Argentina made the top ten clinics list.
Here is what Patrick had to say about dental implants and all on four procedures in Costa Rica:
If you're one of the thirty five millions Americans missing all of their upper and lower teeth, or if your remaining teeth are too damaged to save and restore, an All on Four procedure may be the right choice for you.
Dental Implants to Restore Your Smile
With just four precisely-placed dental implants, we replace all of the teeth on the top or bottom of your mouth.  Four implants on the top of your mouth, and four implants on the bottom is all we need to restore your full smile.
Titanium dental implants actually fuse to living bone and integrate fully with the bone. It's a process called osseointegration. In time, the dental implant becomes part of the jawbone, becoming permanently fixed, preventing future bone loss and holding your new teeth in place for a lifetime.
Benefits of an All on 4
An All on Four dental implants procedure gives patients a more youthful facial structure and improved oral health. You'll look better and will love to smile again.  If you're missing more than half of your teeth or have a mouth full of damaged teeth, an All on Four dental implants procedure will transform your life.
Smile with Confidence
A specialized dental implant and prosthodontics team will give most patients a new smile that will endure for years. When the work is complete, you'll go home with a natural looking, fully functioning set of teeth that will allow you to smile with confidence.
Stage 1 & Stage 2
After Stage 1, your new smile will look amazing and will feel great. And these are only your temporary teeth! It takes dental implants around six months to heal and fuse to your jawbone. Once your dental implants have fully osseointegrated with your jawbone, you'll come back for Stage 2 to receive your permanent, customized smile designed and created for a perfect fit…for life.
Huge Savings on Dental Implants in Costa Rica
In the USA, patients often pay fifty to eighty thousand dollars for an All on Four procedure.  In Costa Rica, patients pay fifty to seventy percent less. Goodness Dental patients also receive a lifetime guarantee on all titanium dental implants.  
The Best Care Comes from the Best Specialists
Seek the best possible specialists to perform your All on 4. At Goodness Dental, our team is comprised of leading maxillofacial surgeons and prosthodontists that have performed thousands of All on Four procedures. We offer leading American and German brand implants and we stand behind our work.
Choose the Best Materials
The best clinics provide their patients with beautiful, natural-looking fixed or removable restorations in acrylic, porcelain and zirconia.  They take the time to ensure that patients return home with a perfect, customized fit that feels comfortable and natural. With proper care and maintenance, your new smile can last a lifetime.
Is An All on 4 Right for You?
Not everyone is a candidate for dental implants. While dental implants are appropriate for most patients, certain medical conditions might prevent a person from getting implants, especially conditions that prevent coagulation or that prevent the use of antibiotics and painkillers. Dental implants also require adequate bone structure in your jaw.  Consult with your chosen clinics to determine if the All on Four is the right program for you. A good clinic will take the time to learn about your needs, and will provide you with a comprehensive treatment plan with pricing.
Improved Health
Dental implants improve chewing, which leads to better digestion, which in turn leads to a better immune system, which in turn leads to fewer health issues. Getting dental implants and a new set of fully functional teeth will be a strong step toward improved health.
Dental Implants Are Permanent
Dental implants are a lifetime solution. Patients that choose dental implants can rely on them to function for the rest of their lives. Choose a clinic that offers a lifetime replacement guarantee on dental implants. A clinic that stands behind its work is the clinic you can trust.
Dental Implants Are Low Maintenance
With dental implants and permanent bridges, there is little to no maintenance. With dental implant solutions such as an All on 4, you can just brush your teeth normally. Make sure to visit the dentist regularly to keep your new teeth in good condition.
Save 50-70% in Costa Rica
Choose a leading dental clinic in Costa Rica and save more than fifty to seventy percent when compared to U.S prices. Come on down to Costa Rica to receive a beautiful, natural smile at a price that's sure to make you smile.
Goodness Dental: GoodnessDental.com
Call Toll Free: Costa Rica:
1-866-218-1036
Email: info@goodnessdental.com